This three-part AI blog series will explore basic AI concepts, the impact of ai on the environment, and AI in Utilities.
In the second installment of our AI blog series, we dive into the relationship between artificial intelligence (AI) and the environment. As we've learned in Part 1, AI technology has a rich history and diverse applications with a strong presence in our everyday lives. Now, let's explore how AI can be harnessed to combat climate change or its potential negative implications.
First, several groups and alliances have combined to drive AI innovation to fight climate change. AI for the Planet is an international alliance that aims to address climate challenges by applying artificial intelligence solutions on a global scale. It operates in cooperation with prominent organizations, such as UNESCO, the United Nations Development Programme (UNDP), the UN Office of Information and Communications Technology (OICT), the AI for Good Foundation, Startup Inside, Boston Consulting Group (BCG), and BCG GAMMA.
The alliance has created a Framework for Using AI to Combat Climate Change which can be summarized as follows:
Mitigation: AI can accurately measure emissions at both large-scale (macro) and small-scale (micro) levels. It can help reduce emissions and the greenhouse gas (GHG) effects and remove existing emissions from the atmosphere.
Adaptation and Resilience: AI applications can enhance hazard forecasting for long-term regional events like sea-level rise and provide insights for immediate, extreme events like hurricanes. AI can contribute to managing vulnerability and exposure by helping develop infrastructure that minimizes the impact of climate hazards.
Fundamentals: AI can strengthen climate research and modeling efforts, climate finance, and climate-related education. It can be utilized in various ways, including creating personalized tools to estimate an individual's carbon footprint or offering recommendations for environmentally friendly purchases. Additionally, AI can support nudging and behavior change initiatives to encourage environmentally conscious choices.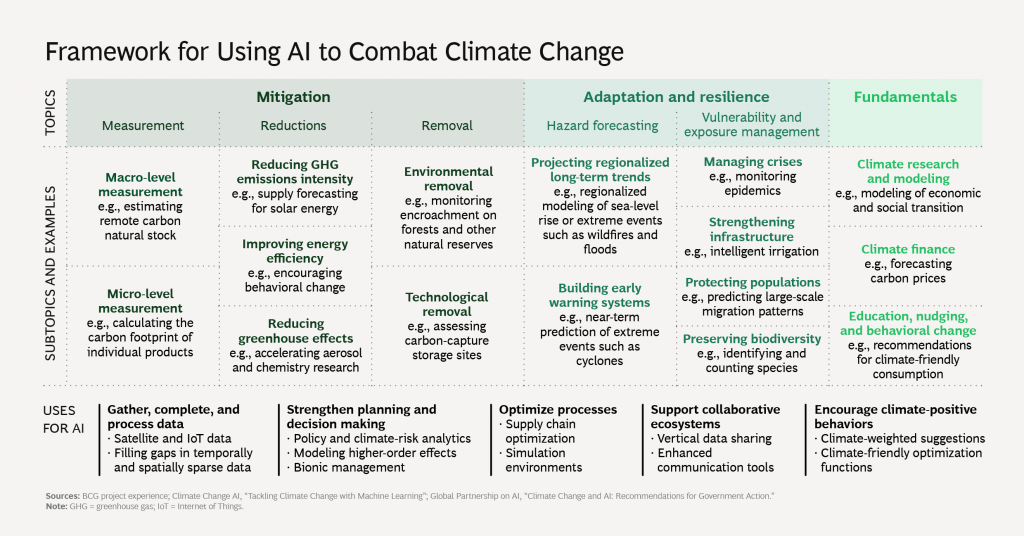 While AI has the potential to bring about positive impacts in addressing climate challenges, it is also essential to be mindful of its potential negative consequences. Here are some additional considerations:
Energy Consumption: AI's computational demands can be significant, leading to increased energy consumption and associated carbon emissions. Developing energy-efficient AI algorithms and promoting renewable energy for AI infrastructure can help mitigate this impact.
E-waste: As AI technology evolves, there is a risk of generating more electronic waste, including outdated AI hardware. Proper recycling and responsible disposal practices are crucial to minimize the environmental impact of e-waste.
Spread of climate change misinformation: AI can contribute to the spread of climate change misinformation through various means. Deepfake technology powered by AI can manipulate climate-related content, disseminating false narratives and misinformation. Additionally, AI-powered bots can automate the spread of misleading information on social media and other online platforms, magnifying its influence. Algorithms used by social media platforms and content recommendation systems can unintentionally prioritize sensational or divisive content, inadvertently amplifying misinformation. Also, AI-generated text and articles can produce seemingly credible content that disseminates false information or distorts scientific findings related to climate change. Addressing these challenges requires responsible AI use, fact-checking efforts, and media literacy education to empower individuals to discern accurate information from misinformation.
The spread of misinformation in the context of climate change can have serious consequences. It can undermine public understanding of the issue, erode trust in scientific research, and hinder effective climate action and policy-making.
Several key actions can be taken to address the spread of climate change misinformation facilitated by AI:
Developing systems capable of detecting and flagging misinformation and supporting fact-checking organizations to provide accurate information is essential.
Social media platforms and content-sharing websites must assume responsibility for monitoring and mitigating misinformation by deploying systems to limit the reach of false content.
Promoting media literacy and critical thinking among the public is crucial in empowering individuals to identify and avoid misinformation.
Encouraging ethical guidelines for AI developers and users, emphasizing responsible AI use, and preventing misuse for spreading misinformation, is necessary.
Fostering collaboration between governments, tech companies, researchers, and civil society will play a vital role in tackling the challenges posed by AI-driven misinformation on climate change.
AI alone cannot solve climate change. It should be viewed as a tool that, when combined with other strategies and actions, can contribute to addressing the challenges posed by climate change. At Awesense, we have realized that AI can help with utility data processing and analytics. Data is the key to driving decarbonization, helping incorporate DERs and expand the usage of EVs to decarbonize transportation. We have developed the AI Data Engine that cleanses and structures utility data according to our Energy Data model (EDM), enabling the development of analytics and use cases for grid modernization and, ultimately, decarbonization.
The third and last part of our AI blog series will explore the use of AI technology in the energy industry. Click here for part three.
---
If you want to learn more about the AI Data Engine and the Awesense Energy Transition Platform, contact us for more information!
---
References: