The Digital Foundation To Modernize Energy
The missing middleware layer needed to work with energy data. Replace manual data processing & integration with automation. A Platform with a Data Model containing crucial ontological relationships synchronizing utility data in time & space. Easily accessible via APIs to facilitate rapid digital transformation. At Scale.
Tell Me More
The Modern Energy Dilemma
- Modernize The Grid To Accommodate Radical Change
Massive political pressure drives the need to rapidly adapt without jeopardizing grid stability or security. Utilities face tens of thousands of interconnection requests. Existing mountains of data will continue to expand as changes at the edge transform our energy system.
Plummeting costs of renewables & storage make distributed energy the new reality.
Mass adoption of EV's driving deployment of charging stations
Rapid transition from fossil fuels like natural gas among Commercial, Industrial and Residential stakeholders.
Awesense is your partner to solve the energy data dilemma and accelerate the energy transition.
Are You In?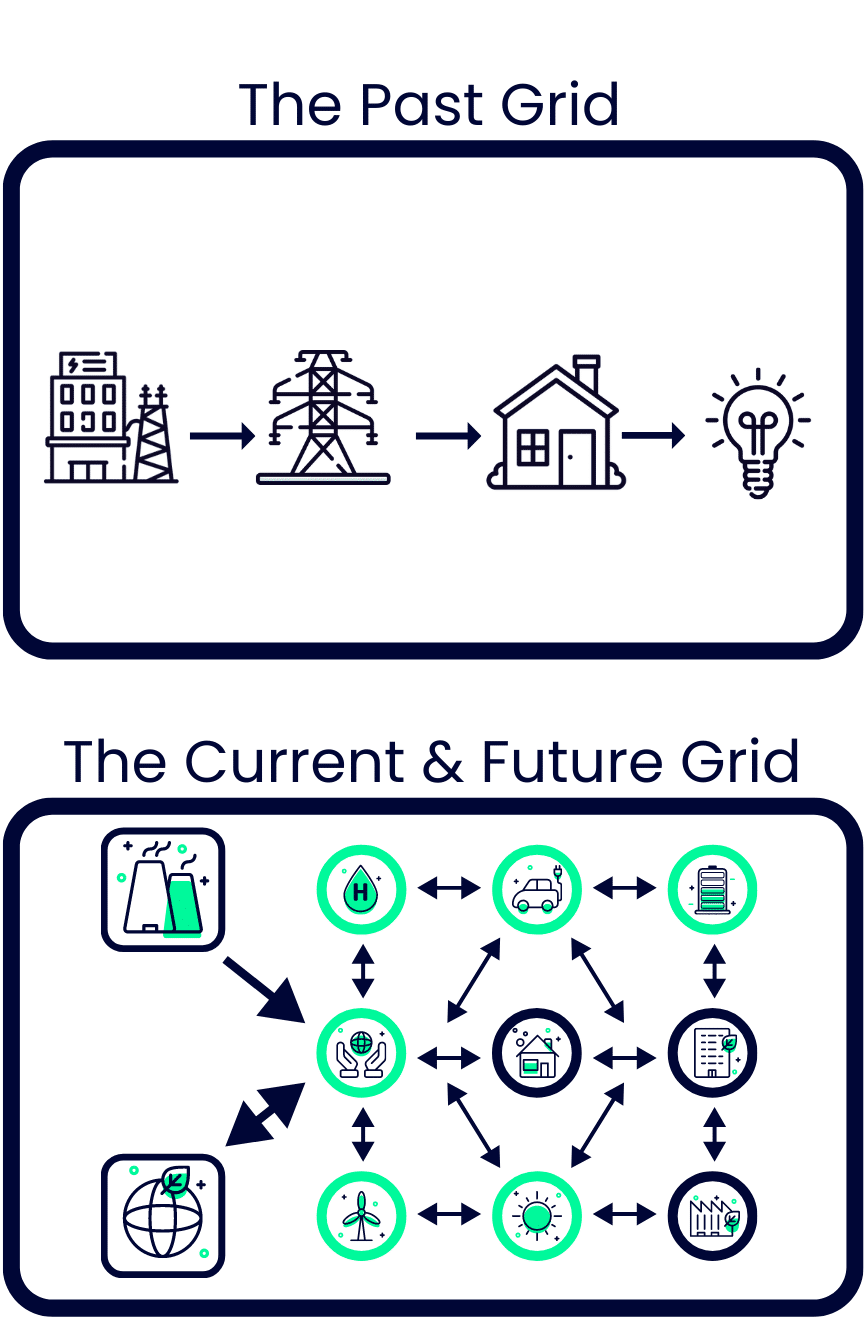 The Energy Transition Platform.
The Energy Transition Platform enables the scaling of the ultimate mountain. Our platform streamlines energy data processes, transforming data into a common framework. With standardized data, we can pursue higher-value activities like innovative analytics, advanced use cases and novel business models.
Today's technology is not prepared to deal with the complexity of the future grid. The energy grid is transforming. It is changing from large-scale, centralized energy generation to a centralized/decentralized hybrid with the addition of small-scale decentralized generation along distribution feeders. With a mass market for Electric Vehicles, energy consumption will grow dramatically and become less predictable. We will need solutions to manage energy generation, balance supply & demand, and communicate with millions of devices in real-time. The solutions that will help us transform must be open, scalable, robust, interconnected, and data-based.
Complexity will become unmanageable, threatening operations, reliability and resiliency. Costs will rise as pressures grow to adapt rapidly under emergency conditions. Customers will flee to new innovative third-party solutions if the utility doesn't adapt quickly, threatening the revenues that support grid operations, power supply, and reliability.
Awesense stands ready to take the hassle out of digital transformation. Awesense has invested in the tools and platform to make digitalization and work with energy data more accessible, faster and more affordable. We rapidly and affordably refine data for software implementations and data analytics. Our open data model makes data analytics and use case formation a breeze. By removing the hassles associated with digitalization, we accelerate change and bring tomorrow's benefits home today.
No, it's much more. Awesense enhances data repositories already in place, creating a data warehouse of integrated refined data. We ingest data from your systems, enhance data quality, synchronize time series devices, and rapidly make data available anywhere in the system –  from any device to any authorized user or software tool.
The Awesense Data Engine integrates disparate data sources, connecting geospatial and time-series data, synchronizing all data, and performing validation, estimation and error correction (VEE) on all data moving through the engine. These processes produce a cleansed Open Energy Data Model (EDM), which represents your entire energy system, providing significant efficiencies by avoiding the repetition of data processes with each project.
Awesense has APIs, connectors and integrations for a wide range of tools that can be used to build custom apps and analytics. Take advantage of integrations like PowerBI, Tableau, and Quicksight to create your charts and reports. Connect Note booking tools like Jupyter and Zeppelin to do your data science work. And connect planning and simulation tools, asset management tools, outage management systems, DERMS, and many other tools that require accurate, robust energy data.
Integrate with your existing tools in a few clicks